Client Case Studies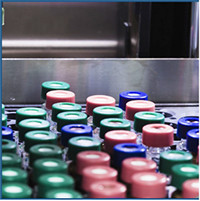 Improve Output to Meet Design Capacity
A fulfillment and distribution company handles health and pharmaceutical product fulfillment for mail order customers. They are experiencing growth in their business, and for one particular facility, the increase in volume is resulting in extensive use of overtime and weekend shifts. The management team was searching for solutions to improve output.
Improvements to Material Handling Reap Rewards of Efficiency
A tool box manufacturer is implementing Lean Manufacturing to leverage their production capabilities. They have implemented Lean Enterprise/Six Sigma programs along with other initiatives in certain areas. Also, the company recently made significant improvements in manufacturing automation by investing in upgraded fabrication machinery. Now they would like to improve overall efficiency.
Projects We Have Completed
– by Type
Equipment:
O.E.E.
Sequencing
Quicker changeovers
Maintenance
Preventive Maintenance
TPM
Progressive Assembly
Line design
Balancing
Parts presentation
Facilities:
New Facility
Re-engineer the process
Estimate growth
Size and building parameters
Facilities Rationalization: Justification
Consolidation
Expansion
Focus factories
Labor:
Engineered Standards
Labor Reporting
Incentive Systems
Support Functions/Process Improvement
Quality control
Lean office
Maintenance
Indirect labor
Materials:
Scheduling and Production Planning
Lean environment
Minimize work-in-process
Inventory Control and Reduction
Economic run sizes
Procurement ordering tools
Streamline Parts Distribution
Process layout
Material handling
Inventory analysis
Procurement
Economic Buy Quantities
Reorder Targets
Vendor Evaluation
Product:
New Product Development
Lean Enterprise Tools
Bringing new products to market faster
Quality Systems
Certification
Process Control
Outsourcing: Foreign and Domestic
Make vs. buy decisions
Process:
Continuous Improvement
Lean
Six Sigma
Computer Simulation
Manufacturing process
Warehousing improvements
Distribution network design
Warehouse Management: Systems
Needs Assessment
Specfications
Implementation
Transportation Analysis
Cost reduction
Transportation Management Systems
Bar Coding and R.F. Analysis
Justification
Specification
Implementation